The Treasury
The Treasury of St Peter and Alexander at the Stiftsmuseum Aschaffenburg
Aschaffenburg Board Game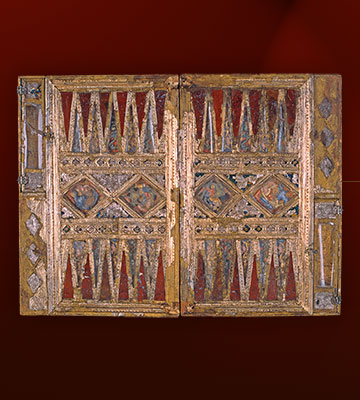 Aschaffenburg Board Game, c. 1300,
wood, silver, jasper, rock crystal, painted clay
MSA Dep. KKPA 4/2009
The famous "Aschaffenburg Board Game" circa 1300 is one of the oldest known objects of its kind. Archbishop Albrecht of Brandenburg is believed to have been the owner of the game that was probably made in Italy.
During his reign Albrecht of Brandenburg amassed the largest collection of relics, known as the "Hallesche Heilthum". He believed that through the act of collecting the relics of saints he would be granted immediate passage to heaven on Judgement Day.
In the past valuable secular objects were often melted down to be re-sold as precious metal and the board game probably survived such salvage as it was also used as a reliquary and sealed in an altar at the Stiftskirche.