Guide tours for adults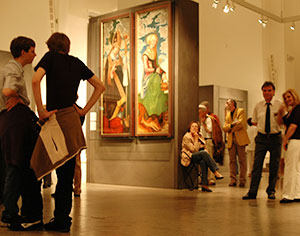 Please contact:
Tourist-Information
Schlossplatz 1
63739 Aschaffenburg
Tel: 06021 - 395 800
Fax: 06021 - 395 802
E-Mail: tourist@info-aschaffenburg.de
Internet: www.info-aschaffenburg.de
Opening times:
April to September: Mon to Fri, 9.00 till 18.00 and Sat 9.00 till 13.00
October to March: Mon to Fri, 9.00 till 17.00 and Sat 10.00 till 13.00
Booking details
Number of participants: maximum 25 people
Prices:
Guided tours (circa 90 minutes): 66,- EUR
Additional fee for guided tours in a foreign language: 15,- EUR
Please note: The museum entry fee is not included in the price of the guided tour. Tickets to the museum can only be purchased at the museum ticket desk.
Available guided tours
"Splendour and Faith of the Middle Ages"
A guided tour of the Stiftsmuseum introducing the highlights of this special exhibition.
For the first time the precious Treasury of St Peter and Alexander will be on permanent display in specially designed rooms at the Stiftsmuseum, which is housed in the former Chapter House, in Aschaffenburg. This medieval church treasure includes objects made of silver, rock crystal and gold as well as precious illuminated manuscripts. The main focus of the exhibition is the famous "Altar of St Magdalene" from the workshop of Lucas Cranach the Elder, which is presented in its entirety first time in 200 years.
"Albrecht the Splendid – Following the Footsteps of Archbishop Cardinal of Brandenburg"
Guided tour of the Stiftskirche with its famous cloister and the Stiftsmuseum with the Treasury of St Peter and Alexander.
Let's travel back to the time of the Reformation and meet one of the most powerful German church dignitaries of the Renaissance. During this tour through the Stiftsmuseum and Stiftskirche you will find out about the importance of Aschaffenburg in the life the glamorous figure Albrecht of Brandenburg. The highlights of this tour are the objects of the Treasury of St Peter and Aleaxander as well as the famous "Altar of St Magdalene" from the workshop of Lucas Cranach the Elder.
Open Guided Tours
In addition to the booked guided tours the Führungsnetz offers "open guided tours" which operate on a drop-in basis. The minimum number of participants for a guided tour is 5 and the maximum 25. For information on guided tours at the Stiftsmuseum please read here. A complete program of guided tours in Aschaffenburg can be found on the homepage of the Aschaffenburger Führungsnetz.
Tours in foreign languages
On request we offer guided tours in the following languages: English, French and Spanish. Our guided tours range from tours around the town, the castle Schloss Johannisburg, the Pompejanum and Park Schönbusch. We also organise bus tours and tours for participants with special needs. Please contact the Aschaffenburger Führungsnetz for further information.